About Our Art
All of our limited edition art pieces are printed to order with the Giclee process, on the very highest quality of canvas. They are then stretched , numbered and ready to ship. If you choose the unframed option, you will receive art that is stretched and ready for framing. With the birchbark frame option, we hand build the frame here in Montana and ship your art ready to be displayed. Our goal for shipping time is 7-10 days from time that the order is placed. We also will send you a FedEx notification when your art is on the way and if you include a phone #, that will be on shipping notification for updates.

Enjoy!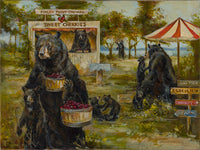 The Cherry Bears
This was Mom's last Bear painting and it's definitely one of her best. The inspiration was that here in Montana, the bears LOVE cherries and the Cherry shacks up around Flathead Lake have to be solidly constructed to keep the bears out. She thought it'd be better for them to just have their own spot on Finley Point, and there you have it. IMAGE IS AVAILABLE in 22x28 or 30x40 and can be ordered unframed (stretched and ready to be framed) or framed in my brother Tim's iconic handmade birch bark frames. On a personal note, our Mom always loved the fact that people connected with her paintings to the point that they graced living rooms all over the world and were passed from generation to generation. Her painting image catalog is alive and well with Dwyer Mason Art and our family will continue to grow and honor her legacy.

Cheers,
The Dwyer Mason Family
About the Artist
Marilynn Dwyer Mason
1943-2022
Marilynn Dwyer Mason was born in the splendor and beauty of southwest Montana. She began drawing at a very early age, and has built a highly successful professional career.  The breadth of her talent shows through in her ability to create beautiful fine art portraits, western landscapes, illustrated furniture and her beloved bears.  As an accomplished artist and illustrator she is a master in pastel, watercolor, acrylic, oil, and pen & ink. Marilynn's work has been exhibited throughout the United States and is represented in hundreds of private collections.
Influenced by the work of Philip Goodwin, John Singer Sargeant and Oliver Kemp, her paintings of outdoor adventures depict the nostalgia of the first half of the twentieth century. Painting from her own vivid imagination, Marilynn evokes an atmosphere that colorfully captures the beauty of the American West and a rich sporting heritage. Marilynn maintains a studio in Butte, Montana where she continues to create stunning original works of art.  
Many of Marilynn's paintings are available as premium gallery wrapped images and as limited edition giclée prints on canvas using the finest archival inks.  The prints are hand stretched, numbered and framed in bespoke birch bark frames.  Every frame is individually made from authentic birch bark and wild harvested willow - each frame is one-of-a-kind. 
Dwyer Mason Art maintains her studio in Butte Montana, where she created her now iconic Mason Bear Series , as well as countless other stunning original art
Marilynn's bears are our favorite art! They bring color, warmth and happiness to our home!

Andrew Johnsen
The bears are so beautiful and realistic, and they are doing such fun and unlikely things. What a great combination!

Melanie Brown
Marilynn is an amazing artist with huge talent and endless imagination.

Rose Sladek
About Us
Marilynn Dwyer Mason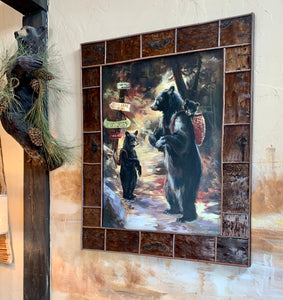 Our Signature Birchbark Frame
Acrylic on Elk Hide
Native American Portraits
Wall Mural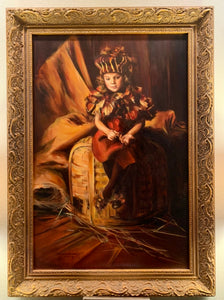 FineArt Portraits
The Uptown Show in Butte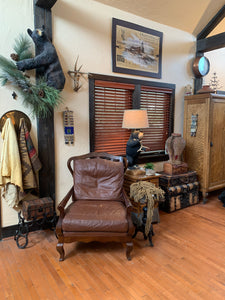 The Studio
The Studio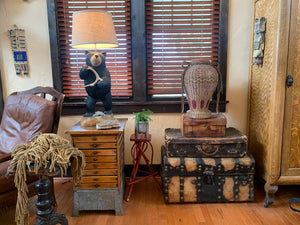 The Studio
The Studio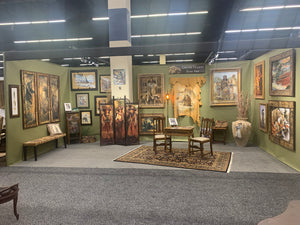 The Fort Worth Show
interested in establishing a wholesale account?
Doug Mason, 202-320-1252, doug@dwyermasonart.com
We happily work with galleries, showrooms and designers across the country. Please contact Doug Mason to discuss wholesale opportunities in your region.